EM3566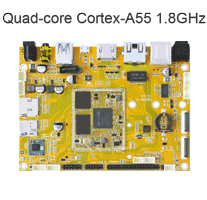 * Processor: Rockchip RK3566 Quad-core Cortex-A55, 1.8 GHz
* NPU: 1 TOPS
* RAM: 2GB
* Storage: 8GB
* Interfaces: 2x UART, Debug serial port, RS485, USB3.0 Host, 4x USB2.0 Host, USB2.0 OTG, Gigabit Ethernet, HDMI, MIPI DSI/LVDS, eDP, MIPI CSI, ADC, GPIO, SD, IR, MEMS, etc.
* Operating system: Android 12, Debian 11, Buildroot
* Board size: 135mm x 95mm
* Expansion Module: 4G model, WiFi, Camera, 7-inch LCD, 10.1-inch LCD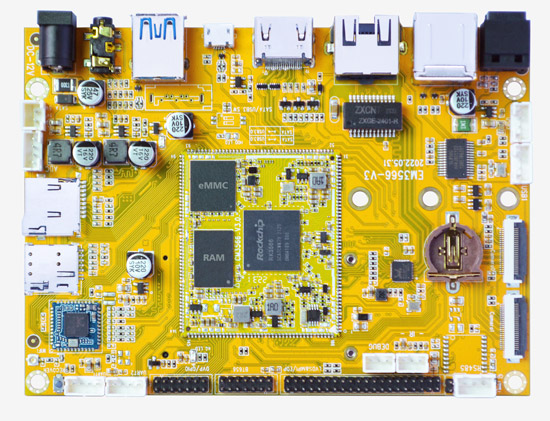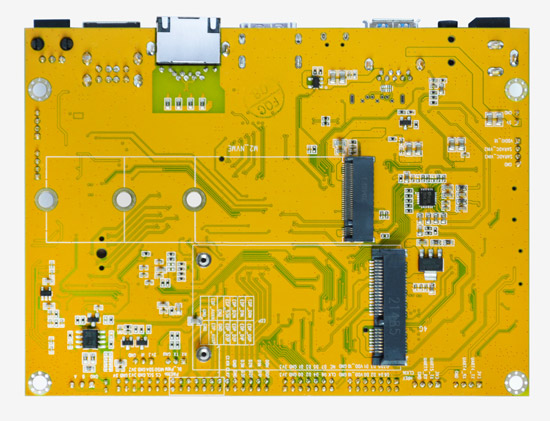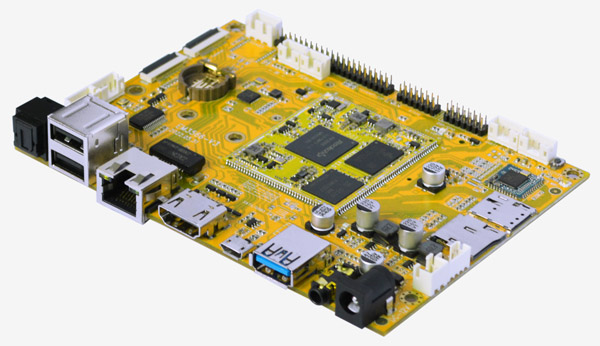 EM3566 gives full play to the extreme performance and rich interfaces of the RK3566 SOC
EM3566's key features including a Rockchip RK3566 high-performance and low power 64-bit quad-core processor, HDMI display support at resolutions up to 4KP60, hardware video decode at up to 4KP60, hardware video encode at up to 1080P60, up to 8GB LPDDR, 128MB EMMC. Also offers Gigabit Ethernet port, as well as M.2 socket which enables expansion with a large hard drive and plus a miniPCIe, a Nano SIM card socket for 4G cellular connectivity. Display and camera capabilities with graphics and video hardware acceleration.
NPU supports one-click switching of mainstream architecture models such as Caffe/TensorFlow.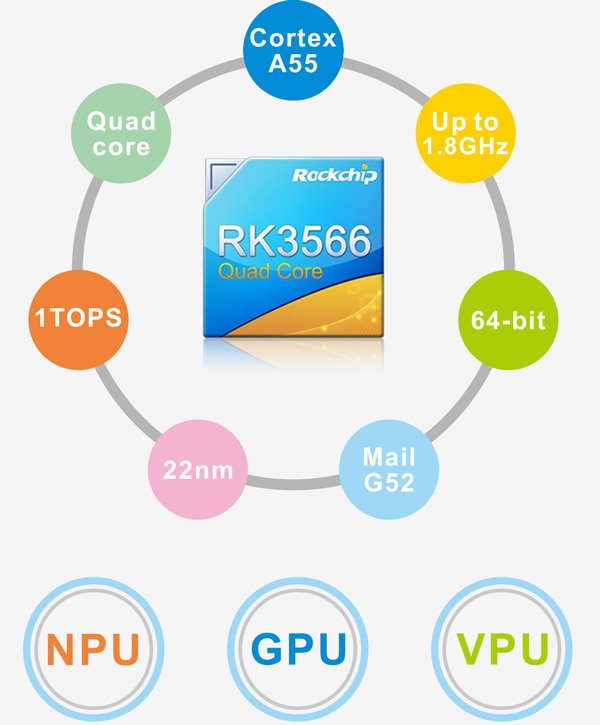 Open system architecture design, provide fast and professional service
It supports mature, stable, and highly extensible Android12, Debian, Buildroot, QT systems and provides a complete set of software system customization service, including system kernel modification, driver migration, application development, and UI customization for customers' personalized and diversified customization requirements. Provide a safe and stable system environment for terminal product research and development.

Provide comprehensive, accurate and complete user manuals
It can provide complete technical datasheet including baseboard reference Design user manual ever the PCB file for your separate application. Source code, Hardware user manual, Software user manual, API interface and SDK development tools, all in one USB disk. Making the secondary development more easy, convenient and efficient, and helping customers get products to market quickly.
Application Scenario

Electronic Paper
RK3566's advantages in ultra-low power consumption, TCON, handwriting delay, performance, and operating system will become a new driving force for the e-paper application market.

1. Ultra-low power consumption, RK3566 improves performance
Compared with electronic products using LCD and other screens, the use of electronic paper display has a huge advantage of lower power consumption and longer battery life. Compared with the power consumption of several popular 6-inch and 10.3-inch e-book products on the market, it can be found that the products equipped with RK3566 consume less power and perform better.
With RK3566 as the main control of the 6-inch, equipped with Android 11, resolution 1024*758 e-books, sleep power consumption is less than 1mA, 15s page turning on power consumption is less than 30mA, 1s page turning on is about 130mA, static interface power consumption is less than 10mA, than the standby interface power consumption of similar products is reduced by 70%.
10.3-inch large screen equipped with RK3566, Android 11 system, resolution 1872*1404, e-book with stylus, sleep power consumption is only about 1.2mA, static interface power consumption is less than 15mA, 15s page turning on power consumption is less than 50mA, 1s page turning is about 180mA, continuous handwriting power consumption is about 280mA Handwriting power consumption is nearly 40% lower than that of similar handwritten ebooks.
In order to reduce power consumption, for the electronic paper application products, the RK3566 solution has been deeply optimized in the display architecture, system task management, hardware design and other aspects. Among them, using LPDDR4X particles, the power consumption of the VCC_DDR part can be saved by 40%. In addition, RK3566 supports Touch Panel Low Power Mode, which reduces power consumption.
2. Cost optimization, RK3566 comes with TCON interface
RK3566 comes with TCON-EBC, terminal partners do not need to add additional electronic paper display, the cost is greatly reduced. At the same time, the largest resolution supports 13.3-inch 2200*1650, and the pain point demands of large-screen e-paper applications, can support local refresh and global refresh, better deal with residual image and poor clarity and other problems, bring a better visual experience.
3. Handwriting delay is reduced, RK3566 self-developed hardware acceleration module
RK3566 is based on the self-developed hardware acceleration module, which reduces the handwriting delay rate, improves the handwriting speed by 20%, and provides smooth writing and better visual experience.
4. Enable rich AI applications, RK built-in powerful NPU
The built-in NPU of RK3566 enables rich AI applications for products, including intelligent text recognition/word search, OCR note extract, OCR word search, shot question search, comic automatic segmentation and scaling of selected areas.
5. Optimized system consumption, RK supports lightweight Android/OS
RK3566 supports the most lightweight Android/Linux OS for e-paper applications, optimizes task scheduling, reduces system CPU consumption, reduces memory usage, improves system fluency, and ensures application compatibility.
Fitness mirror and smart screen designed for fitness users
Use RK3566 landing fitness mirror and fitness smart screen application to create better fitness equipment for fitness users and provide high-quality fitness experience. The RK3566 has a built-in independent NPU that makes it easy to implement AI coaching functions. This means that our fitness goggles and fitness smart screens can not only record the user's fitness data.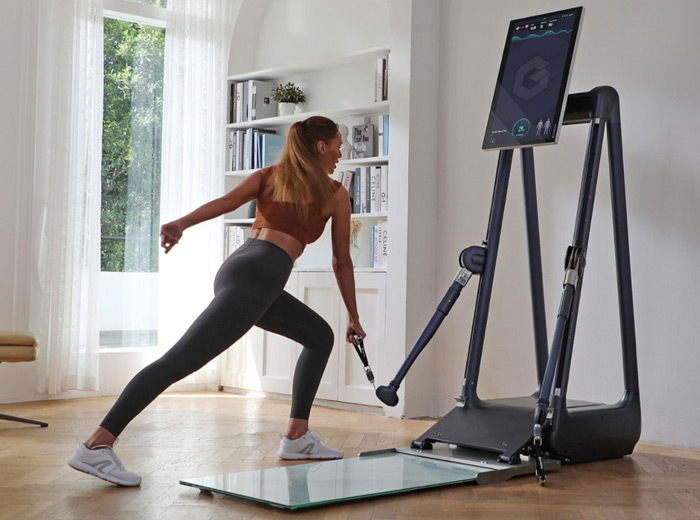 It can also provide you with personalized fitness trainer advice.
At the same time, RK3566 specific high-performance hardware features, can support 4K@60FPS video decoding output and up to 1080P@100FPS hardware coding capabilities.
This is where our devices can provide sufficient performance support for instructional interactions while providing an extremely high visual experience.