EM2440-III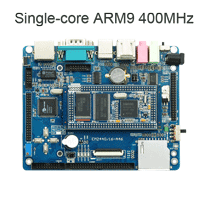 * Processor: Samsung ARM9 S3C2440A ARM920T @400MHz
* RAM: 64MB/128MB optional
* Storage: 64MB/128MB/256MB/512MB/1GB optional
* Interface: 2x USB host, 1x USB Device, 3x RS232, LCD, Ethernet, JTAG, Audio, RTC, GPIO, SD, Camera
* Operating system: Linux2.6.25/2.6.30, WinCE6.0
* Board size: 105mm x 131mm
* Expansion Module: GPS, GPRS, WiFi, Camera, AV, VGA, Thermal printer, LCD
EM2440-III SBC offers true rapid development solutions by providing all the necessary ingredients to jump start embedded designs. The board includes the ARM9 MINI2440 module and Carrier Board, pre-installed Windows Embedded CE or Linux OS. The mother board integrates a rich set of peripherals and interfaces including Ethernet, USB Host & Device, Camera, Serial ports, Audio, LCD, Keyboard, SD/MMC, Buttons, LEDs and etc.
The micro2440 computer has complete electronic documentation, schematics, demo applications, and third party industry-standard C compilers and embedded development environments for evaluation.
Boardcon also backs up our kits with a Start-Up Guarantee. We invite you to make use of our free technical support until any start-up problem you might encounter is solved. The positive out-of-box experience with the Rapid Development Kit illustrates Boardcon's continuous commitment to providing customers with effective embedded solutions by offering a hands-on, industry-centric entry point for embedded developments, which is a key starting point for OEMs needing to have a complete solution up and running under very short development time constraints.
If somewhere on the board don't meet your specification of your project, we will modify the board for a semi-custom solution. When needed, we will develop a new embedded SBC or peripheral board to meet your requirements. Depending on the design agreement, you might maintain sole ownership of the final product, or we might add the product to our COTS product line.
Apart from the different processors, MINI210-III, MINI2440, and MINI2416-III share the same motherboard.