EM2000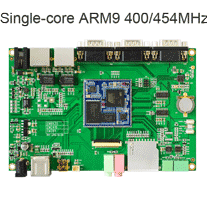 * Processor: Atmel AT91SAM9X35 @ 400 MHz, or Samsung ARM9 S3C2416X @ 400MHz, or Freescale i.MX287 ARM926EJ-S CPU @ 454 MHz
* RAM: 64MB/128MB DDR2
* Storage: 256MB/512MB/1GB optional
* Interfaces: LCD&Touchscreen, 2x Ethernet, RS485, CAN, 3x UART(DB9), USB OTG, 2x USB HOST, Audio I/O, SD card, SmartDAA(RJ22)
* Operating system: Linux2.6.39
* Board size: 160mm x 105mm
EM2000 is an ARM9 SBC targets to control panel/HMI, fitness equipment, smart grid infrastructure, communications gateways, and imaging terminals among others
The embedded board supports three versions of CPU Module which separately based on ATMEL AT91SAM9X35, Samsung S3C2416 or Freescale i.MX287 processor and includes 64MB / 128MB DDR2 RAM, 256MB SLC NAND storage, 2x USB 2.0 host ports, SmartDAA port, and a pair of 10/100M Ethernet and more.
The SBC has a flexible design with one CPU module CM9X35 (Compatible module - MINI2416, MINI287) mounted on one base board which is easy for customers to design their own base board or upgrade the CPU module.
The board runs Linux2.6.39 and is delivered with software packages, and the company also provides some sample applications to the customers.

Boardcon is a confirmed third party partner of Atmel&Freescale, welcome to use Boardcon's Atmel/Freescale products!