CM6ULL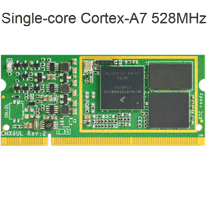 * Processor: NXP i.MX 6ULL ARM Cortex-A7™ @ 528MHz
* RAM: 256/512MB DDR3L
* Storage: 4/8/16/32GB eMMC
* Pin out: USB OTG, UART, HDMI, LCD, Audio I/O, Ethernet (10/100T), MMC/SD/SDIO, Camera, JTAG, PWM, GPIO
* Operating system: Linux4.1.15
* Board size: 67.7mm x 30.0mm
* Connectors: SODIMM200 card edge connector

The CM6ULL a highly flexible System-on-Module (SoM) based on NXP/Freescale's i.MX 6ULL ARM Cortex-A7™ processor. The small and energy-efficient ARM-based module provides maximum performance in low-power, space constrained embedded environments.
The i.MX6 SOM is integrated power management module that reduces the complexity of external power supply and simplifies the power sequencing. The CM6ULL module is equipped with 512MB of DDR3L RAM and 4GB eMMC. All the IO peripheral interfaces supported by i.MX 6ULL CPU is available through 200pin SODIMM edge connector.
Boardcon is a third party partner of Freescale, welcome to use Boardcon's Freescale products!